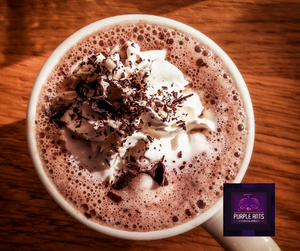 Fine Hot Gourmet Chocolate
Coffee and Truffles Pairing
Customized Your Gift Box
Menu At The Bar
Purple Ants Chocolatier
A Chocolatier Cafe Bar, we believe that chocolates must be freshly made and produced in small batches, handcrafted and unwrap to glimpse the work of art, a masterpiece.
Each box of truffles is made from the finest quality ingredients carefully handpick to bring out distinctive flavors, smooth texture, that melts-in-the-mouth quality, best for desserts and pairing with coffee, tea, wine, deli meats and cheese and are great gift ideas to start.
YOURS TO ENJOY
Our creative expression is crafting delightful chocolates using the finest ingredients, to bring out its delicate flavors. 
Deeply rich chocolate that melts in the hand contain high cocoa and cocoa butter a signature of high-quality
chocolate, it provides flavors lingering taste such as bitterness with a hint of acidity, sweetness with a light sourness and does not contain palm oil, artificial flavors, and preservatives. For us even the simplest quality ingredients can be crafted into something special for you, perfect for elevating the joy to all your senses.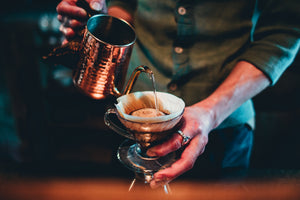 Coffee and Truffles Perfect Pairing
Chocolate and arabica coffee go together, the flavors are often described in a similar way, it evokes the flavor of bitter, sweet, fruit notes, woody, citrus, caramel, and chocolaty.
Menu at The Bar
Enjoy the best fine hot chocolate brewed to your liking and preference. Purple Ants fine chocolates are created to inspire share worthy moments with families and friends in a comfortable and safe environment.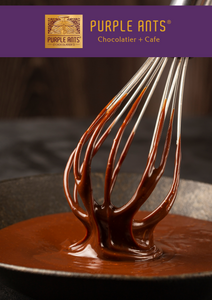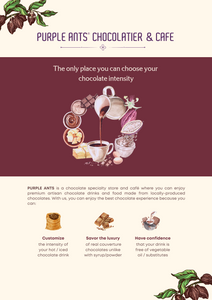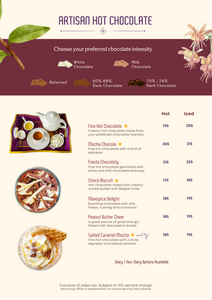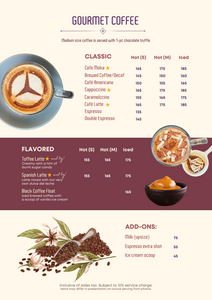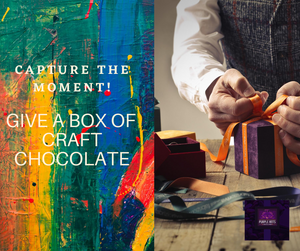 Gift Box Customized
Freshly made Craft chocolates deliver the luxury in a box,dark, rich, and irresistible delightful treats.
Handpick your gourmet chocolates, create your gift box based on your preferred variants or simply choose a single recipe in the catalog.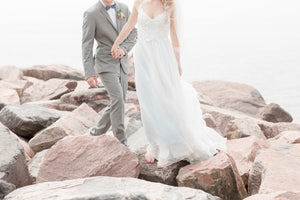 Corporate, Birthday, and Wedding Events
Looking for a memorable gift? Whether it be for corporate branding engagement, customer touchpoint, prospecting, building relationship, personal events such as weddings, birthdays, and debuts, or simply saying hello to someone special, we are here to collaborate to make your gift a wonderful experience.

Wanting a unique artisan chocolate dessert table? will customize it for your delight.

Contact Us: 0917-6348799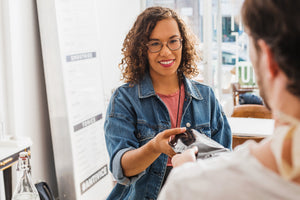 Dine-In, Take Out and Pick-Up
The Purple Ants Chocolatier bar is open for dine-in, take out, pick-up orders and delivery.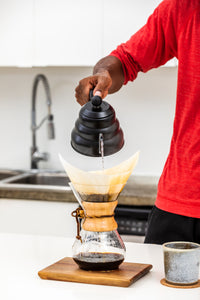 Chocolaty Home Brew Kit
We bringing to you our home brew kit gourmet hot chocolate recipes to perk-up your morning mood, boost your energy.
Brew your gourmet hot chocolate in just 5 minutes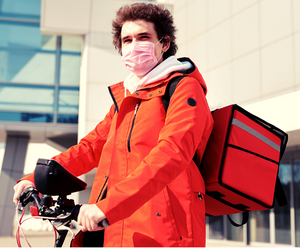 SHIPPING
The shipping rate is fixed at 150.00 in selected Metro Manila areas, Get Free shipping for orders above 2,500.00

Your orders online for chocolate truffles will be shipped in 3 -5 days upon receipt of the order, our customer service will notify you through SMS upon dispatch from the nearest store near your location.

Delivery Areas:
Quezon City, Manila, Caloocan, San Juan, Mandaluyong, Pasig, Makati , Bonifacio Global City, Marikina, Paranaque, and Pasay City.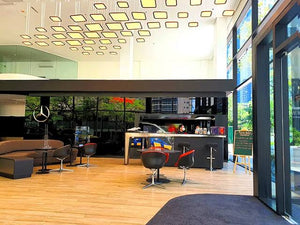 At The Bar
Our cacao beans, arabica coffee, wildflower mountain dark honey, organic coconut sugar are locally sourced in Davao, Mindanao and Luzon, supporting local industry.
Our Store is located inside Mercedes-Benz Showroom, Cats Motors Inc.
Signature Gift Box
Mini Bite Size Gourmet Chocolate Truffles in a box of 7,9 and 15 pieces, a gift for extra special occasion, choose your preferred recipes.
Subscribe to our newsletter
This section doesn't currently include any content. Add content to this section using the sidebar.